Commercial Cleaning Services
When you are looking for the best in Waynesboro pressure washing services, you can always count on the team of experienced professionals here at Blue Ridge Exterior Cleaning. For nearly ten years, we have been providing the high quality pressure washing services our customers rely on to keep their homes in the best condition possible all throughout the year. If you would like to know more about our full line of high quality pressure washing services, read on below, or give us a call. Our team of experts are always standing by and would be more than happy to answer any and all of your questions.
Commercial Building Washing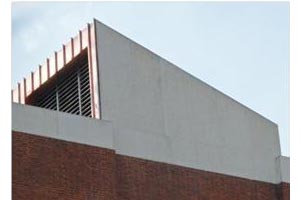 The exterior of your commercial property is what the world sees and greatly influences the first impression people get from your business. First impressions are everything, which makes it extremely important to ensure that the exterior of your commercial space is always looking its best. One of the easiest ways to keep your space looking its best is to commercial building wash to get your building looking good again.
Commercial Roof Cleaning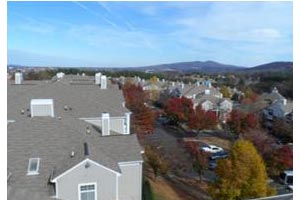 Taking good care of your commercial roof is the first line of defense against building damage, and cleaning is necessary to take care of the roof. Commercial roof cleaning is a maintenance task that you may need help with. Our Waynesboro pressure washing contractors have you covered for commercial roof cleaning and other exterior pressure washing.
Commercial Surface Cleaning
We clean commercial entrances, walkways, tennis courts, fences, sidewalks, pool decks, and more. Let us help you make an excellent first impression that draws customers into your establishment.
Commercial Graffiti Removal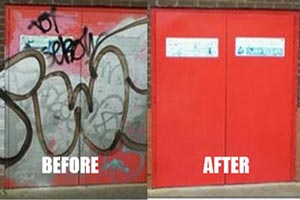 Graffiti can be an extremely difficult substance to remove once it's applied to the outside of your business, overpasses and other places that vandals like to spray paint on. Here at Blue Ridge Exterior Cleaning, however, our team of professionals can make it so that you would never even know it happened. With our top of the line pressure washing services, we can wipe away graffiti like it was sidewalk chalk, and leave the exterior of your building, city over passes and more, looking like new again.
Tile Floor Cleaning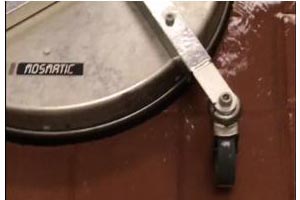 Floor tile isn't easy to clean due to the porous nature of the tile and grout. Once it becomes embedded with dirt and grime, you need professional cleaning help to fully renew the beauty of your tile floors. Let Blue Ridge Exterior Cleaning make it easy on you by using our professional tile floor cleaning tools and methods. Our tile floor cleaning service is the perfect choice for restaurants and other businesses with tile floors.
Water Recovery Cleaning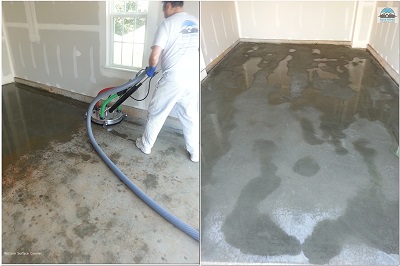 The EPA has strict guidelines in place when it comes to where the water from your pressure washing service is allowed to go. Our team of commercial water recovery specialist take special care to ensure that all of the resulting water from your cleaning service is absorbed or collected by us to ensure that it never finds its way into your landscaping water or water supply.
Red Clay Stain Removal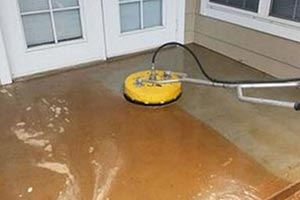 Standard cleaning agents will not remove red clay stains. Our specialized solutions can minimize the appearance of the clay stains by 80% or more. The longer the stains have been present, the harder it becomes to get them off. With our pressure washing services, we can diminish the appearance of red clay stains and other stains that may be at your property.
Window Washing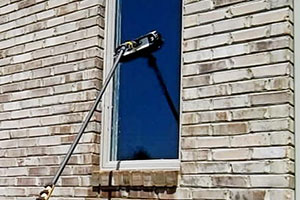 We clean windows! Our water fed pole system enables us to use triple-filtered water for a spot free window cleaning service. This service is also safe for our crew as we are able to clean windows from the ground up to three stories. Call us for a window cleaning quote for your property.
Hot Water Pressue Washing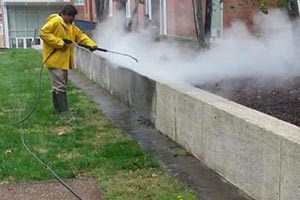 When it comes to getting your commercial building, roof, entrances, and walkways clean, hot water pressure washing will remove dirt and stains deep down. Cold pressure washing is perfect for removing dirt, but when there are oil and grease or other issues, a hot water pressure cleaning works best. Blue Ridge Exterior Cleaning uses hot water pressure washing where appropriate all your commercial exterior surfaces.
Bird Spikes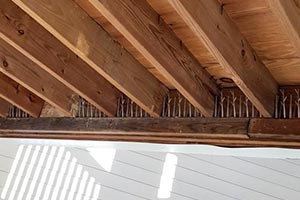 Want an easier way to keep your commercial or residential building and/or signage clean? Call us to ask about bird spikes installation to minimize the mess of pigeon, quail, doves, and other larger birds. They are the best method to prevent the mess that birds make on your building.