Your Local Bird Spikes Installers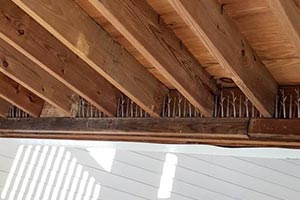 Want an easier way to keep your commercial or residential building and/or signage clean? Call us to ask about bird spikes installation to minimize the mess of pigeon, quail, doves, and other larger birds. They are the best method to prevent the mess that birds make on your building.
Blue Ridge Exteriors is a local pressure washing company with experience as bird spike installers. As our company has grown over the years, our services have too. No matter what we help you with, you can always count on the same superior service.
Expert bird control spike installers
Prevents damage to your roof & building
Makes building washing easier & quicker
Where We Install Bird Control Spikes
This anti-roosting spike system will effectively deter birds from perching and roosting on your commercial building.
We install bird control spikes on some of the most common bird landing surfaces including residential and commercial rooftop edges, signage, window sills, ledges, and chimneys.
We Can Clean Your Bird Control Spikes Too
Bird spikes do get clogged, so cleaning them is important. Otherwise, the debris accumulates so much that the bird spikes no longer work property to deter roosting.
After installation, you can always count on our pressure washing services in the future when your bird spikes need cleaning.