Playground Equipment Cleaning For Waynesboro Schools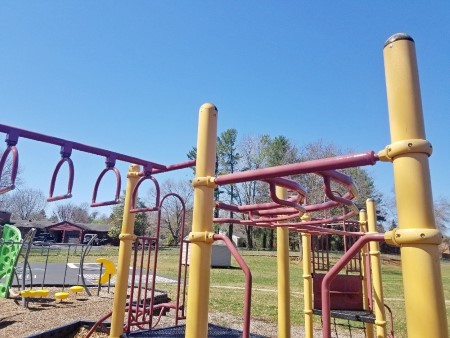 When it comes to our children, we want to ensure that every space they spend time in or around stays clean, especially their playgrounds. Blue Ridge Exterior Cleaning, LLC is proud to be the exterior cleaning company that offers playground equipment cleaning services in Waynesboro. Playgrounds can be a breeding ground for bacteria and sickness, no matter what the playground is made of-- plastic, metal, wood, or other materials. Having these surfaces professionally cleaned by our team at Blue Ridge Exterior Cleaning, LLC can give you the peace of mind you want when it comes to where your children are playing. With a playground equipment cleaning service, harmful bacteria won't be left to grow or affect the children who spend time on the playground. We are dedicated to ensuring that your kids will enjoy a hygienic space to play and make friends.
Clean Equipment Is Safe Equipment
Harmful substances like algae and moss can easily grow and thrive on slides, swings, monkey bars, and more playground surfaces. These things can make play areas slippery, which could cause falling accidents if left uncleaned. Making sure your playground equipment clean at all times is vital in the health and safety of the children who play there.
Our playground equipment cleaning process involves soft washing methods, utilizing special cleaning detergents left on the dirty surfaces to eliminate substances at their root. Once the detergents have sat for a while, they have washed away with clean water to reveal a newly cleaned surface beneath, ready to be used safely!
Playgrounds should provide a safe space and fabulous outdoor fun and entertainment for kids, and at Blue Ridge Exterior Cleaning, LLC, it's our job to ensure that these areas are clean and safe. No matter where your playground is located, be it a neighborhood, school, church, public park, or any other place where a play area exists, we are the experts to call. Contact us today to learn more about our playground equipment cleaning or make an appointment for your playground to ensure that the children who use it are safe from any mold, mildew, or bacteria that could be present there.
Our Team Can Do It All
Blue Ridge Exterior Cleaning, LLC is the pressure washing company to trust when you need superb exterior cleaning services in Waynesboro. Alongside our premier playground equipment cleaning services, we also offer a wide variety of other cleaning services, such as:
House washing
Window washing
Roof cleaning
Commercial pressure washing
And much more!
Your home, business, and playground equipment deserve the highest quality cleaning services in Waynesboro, and we can give you exactly that when you give Blue Ridge Exterior Cleaning, LLC a call for your exterior cleaning needs. Never settle for less than the best when it comes to your property-- call on the pros for a superior clean!