Fence Cleaning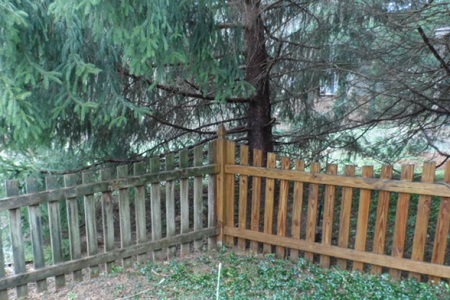 There are few things that can bring the same level of elegance and function to your property like a high-quality fence. Not only does it provide your property with a certain level of privacy and security, but it also serves as a focal point for your home's landscaping. That being said, all of the beauty your fence brings to your landscaping can be reversed if your fence isn't looking its best. When your old fence is stained or grey with age it's time to look at the benefits of our fence cleaning services. In addition to clearing away buildup on your fence, a professional pressure washing service will also help to extend your fence's lifespan.
Blue Ridge Exterior Cleaning is the place to call when you are looking for exterior cleaning services and unmatched customer service. With nearly ten years of experience, we know what it takes to clean your fence so it stays in the best condition possible. For any your fence cleaning needs, give us a call today.
Fence Soft-washing
At Blue Ridge Exterior Cleaning, we know what it takes to make sure you get the high quality clean you need for your home's exterior surfaces, and it is no different for your fence. Your fence plays an important role in the overall aesthetics of your home and its security. Because of this, we aim to help you keep your fence in the best condition possible starting with professional cleaning. Soft-washing and pressure washing are two of the most cost effective cleaning methods out on the market today. You can trust our experienced professionals and rest assured that your old fence will look like new once again.