Hot Water Pressure Washing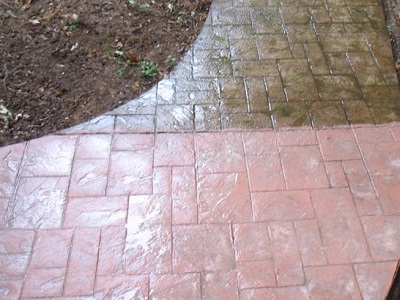 Pressure washing is an exceptional method of providing the hard surfaces of your home with high quality cleaning that can remove even the most stubborn stains. But there are some stains that require a little bit more than simple pressurized water. Some stains, like oil, grease and gum aren't going to be easy to remove. Luckily, Blue Ridge Exterior Cleaning utilizes a special method of cleaning that can get rid of even these stubborn contaminants. With our full line of hot water pressure washing services, you can rest assured that no matter what kind of stains you have on your home's exterior surfaces, our experienced pros will be able to clear them away. Some stains may never come out even with hot water since concrete is a porous material. The longer the stain is present, the harder it is to clean.
When it comes to hot water pressure washing in the Waynesboro area, there are a couple of key elements that enable them to successfully remove oil, grease and gum where other exterior cleaning services might fail to do so.
Heat - this creates the high speed molecular action that allows the detergents to clean more effectively and reduce the surface tension of the water to allow it to penetrate these spots.
Agitation - This is caused by the pressurized water, and the use of our surface cleaner with two rotating pressure washer tips designed to clean without damage and will not leave wand marks.
Detergents – These work to chemically break the bonds of the oil, grease and gum that adhere to hard surfaces. These detergents use softening agents that loosen the bonds and help it to break free.
When To Use Hot Water Pressure Washing
If your property has any hard surfaces with buildup of grease, oil, or gum, using hot water is going to be the more effective versus standard pressure washing, especially when paired with the right cleaning agents. This makes hot water pressure washing an extremely effective method of cleaning for surfaces like driveways, garage floors, and sidewalks, that can be subjected to particularly rough stains.