Waynesboro Soft Washing Service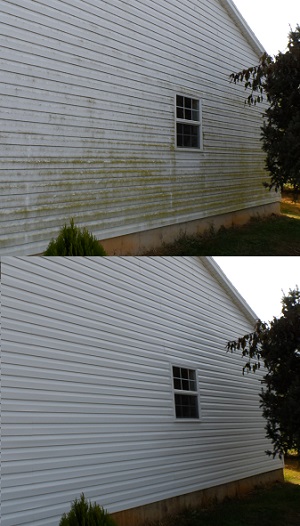 When you call us for our Waynesboro soft washing service to clean your roof or other exterior areas, you get a low-pressure exterior cleaning that doesn't damage or harm the building materials of your home or business.
We use a technique that uses water under a lower pressure and an environmentally friendly detergent solution to clean your home's exterior. It's safe and effective at loosening dirt, grime, and stains from the materials that absorb them, such as concrete driveways, brick, roof shingles, siding materials, wood fences, and more.
Blue Ridge Exterior Cleaning has been a Waynesboro pressure washing company since 2010. Our technicians are highly skilled at safe and effective methods of exterior cleaning. We offer residential and commercial soft washing service in Waynesboro and surrounding areas.
Roof Cleaning
House Washing
Graffiti Removal
Water Recovery Pressure Washing
Restaurant Tile Floor Cleaning
Deck & Fence Cleaning
Pressure Washing Patios & Walkways
Pressure Washing Walls
Hot Water Pressure Washing
Soft Washing
Residential & Commercial
Our exterior soft washing service helps your home to look cleaner and more attractive. However, it also cleans the building materials of substances that cause damage. The most destructive stains are black or green algae, chemicals like oil, and rust. Exterior cleaning removes these stains so your home's siding, roof, concrete, wood, and other materials last longer. If you are interested in our soft washing service in the Waynesboro area, give us a call for a quote.
Commercial Soft Washing Service
As a business owner, you know customers expect to see a certain level of cleanliness in your commercial business whether you own or manage an auto-mechanic shop or a grocery retail outlet. Good first impressions are the most important because a bad impression is very difficult to change once formed. Putting your best face out there always leads to more success.
If you have a commercial building that needs some curb appeal, commercial Soft Washing service is a great option for you. You would be amazed at how clean and fresh the exterior will look after our soft washing service.
The first impression you make on a customer could determine whether or not they come inside to do business with you. Unfortunately, if the exterior is a mess, it will often cause customers to have second thoughts about trusting your service or product. Call us for exterior soft washing service today and be sure you make the best impression possible.