Commercial Tile Floor Cleaning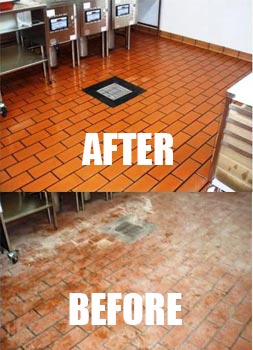 If you own property that has any type of floor tile, you are undoubtedly aware of how difficult it is to keep it clean day in and day out. With the amount of foot traffic, dirt, food and grease you get on them, your tile floors tend to act like a sponge, and not only does this hurt the overall appearance of your property, it can also create extremely unsanitary conditions. If your tile flooring has seen better days, you can always count on Blue Ridge Exterior Cleaning to get it looking much clean again. For all of your tile floor cleaning needs, give our pressure washing professionals a call today and let us show you the difference that quality can make on your tile flooring.
More than likely, your tile floor has never had any other cleaning than a mop. The grout and tile will never be completely clean unless we use hot water and our water recovery system. At Blue Ridge Exterior Cleaning, we have the skill and experience to ensure that you get the highest quality clean for your tile floor and results that will last.
Waynesboro Tile Floor Cleaning
Keeping the floors of your restaurant in good condition is a major responsibility of yours as a business owner. In addition to the sanitary concerns of keeping your floor clean, there is also the visual aspect. When it comes to restaurants, there are not many customers who are going to choose to spend their money at a place whose floors look look more like a smokey gray than their original white. The last thing you want to do as a business owner is to lose potential business due to the cleanliness of your floors.
Floor tile isn't easy to clean due to the porous nature of the tile and grout. Once it becomes embedded with dirt and grime, you need professional cleaning help to fully renew the beauty of your tile floors. Let Blue Ridge Exterior Cleaning make it easy on you by using our professional tile floor cleaning tools and methods. Our tile floor cleaning service is the perfect choice for restaurants and other businesses with tile floors.