Graffiti Removal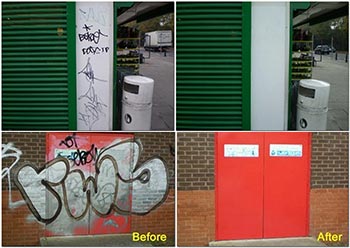 When it comes to graffiti removal, Blue Ridge Exterior Cleaning is the go-to team of professionals you can trust to get the job done in a timely and efficient manner. Graffiti is an unsightly act of vandalism, and if you ever find yourself on the receiving end of it, you will quickly realize how it can impact the value of your property, and how difficult it is to have it removed.
Graffiti on commercial properties and city state owned buildings, bridges, over passses etc. are an eyesore and can make people uncomfortable. We have the tools and expertise to remove that graffiti eyesore completely, so don't hesitate to call us now.
Removing Graffiti with Specialized Pressure Washing Solutions
When it comes to removing graffiti from the exterior of your home or business, it is important to ensure that you have the assistance of an exterior cleaning company who is going to be able to remove it completely, and do so in a timely manner. The last thing you want to do is let graffiti stand on your property for any length of time, as this tends to encourage more would-be vandals to use the exterior of your property as their canvas since they know they will be able to get an audience. I addition, graffiti can be a particularly stubborn substance to remove, and you need to be sure of the best ways to do so in order to ensure that you don't do any damage to your home's exterior while trying to have it removed. If your home or business has been the victim of graffiti, give our team of experts a call today and let us show you why we're the premier name in graffiti removal throughout the Waynesboro area.