3 Important Reasons to Get Your Deck Pressure Washed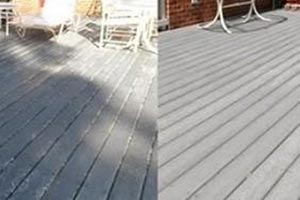 Here we are once again smack-dab in the middle of the warmer months. The weather's finally nice once more, and you can hardly keep yourself inside. Yes, now more than ever you'll be saying thanks for that beautiful deck in your backyard -- the perfect place to invite friends over for some summer fun.
Time, too, to get that deck READY for company. After all, the colder months surely did a number on it, leaving it looking far from its best. Luckily, you can get it looking its best and also enjoy some other great benefits by calling for a professional pressure washing.
Wash Away Mold & Algae
No matter where you want to have a good time, with whom you want to have a good time, or how long you want to do so, you need to be sure everyone is going to be as safe as can be. But if your deck has developed harmful mold and algae growths over the wet winter months, no one will be safe from the health problems those growths can lead to.
If your deck has developed mold and algae over time, just call for a professional deck pressure washing. A pressure washing will knock away those harmful growths, making your deck a clean and safe place to enjoy your summer fun with friends.
Make Your Deck More Slip Resistant
The mold and algae we mentioned above can do more than leave you feeling sick. They can also add a slick film to the flooring of your deck, and this slick surface can create a definite slip hazard -- a definite party foul for your deck.
To keep the party going safely, remove the slickness so that slips are not nearly as likely. And to do that, just call your preferred Central Virginia pressure washing pro, and in no time, those slippery growths will be a thing of the past, leaving your deck as safe as possible.
Brighten Your Backyard Hang-Out Area
While safety is important to anyone, let's face it: People at a barbecue just want to have a good time. But it's awfully hard to have a good time when you're trying to do it on a dirty, discolored deck.
To make your backyard the most enjoyable possible hangout spot during the warmer months, get a pressure washing to brighten that deck up. A bright, clean deck that looks new will keep you and your guests feeling great so that you can enjoy your summer fun to the fullest.