Why Exterior Cleaning Is Essential to Selling Your Home
If you are selling your home, chances are you're weighing a lot of concerns. When considering pricing your home you're also likely considering how much you want to put into preparing your home for viewing. You may already have set a budget and a list of visual improvements you would like to make before listing. Some helpful tips this article will provide for deciding what projects to prioritize and the pros and cons of hiring professionals are:
It's all about first impressions
How buyers find you
Presentation matters
Professional service or DIY
How to spot a pro from a no
Investing a little money may bring in more
We've all heard the adage about not judging a book by its cover, but the reality is that first impressions are the foundation of a potential buyer's decision and start with the outward appearance of your home. A clean home exterior gives the impression of a well-cared for and maintained home. A home with visible moss, mold, or algae growing on the roof, siding, decks, or sidewalks could appear to be "rundown" in the eyes of potential buyers. If you are listing your house online remember that the first thing potential buyers will see are the photos. Check out the before and after photos below and ask yourself which photos a buyer is more likely to click on during a web search.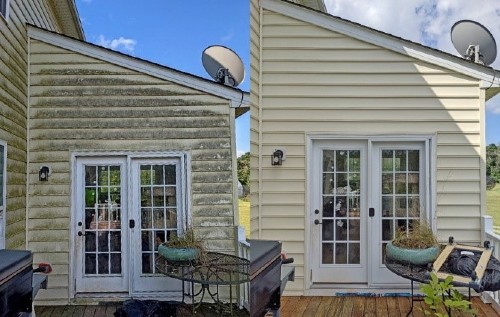 Keep in mind that today most shoppers search online. Plan for this by staging your home to stand out to grab attention. A home's value is heavily influenced by visual perception. Take the time to tidy up inside and out and take several clear photos. If you notice growth on your home's exterior surfaces, consider hiring a professional to gently clean and treat those surfaces to regrowth for two-three years.
While you may be tempted to buy a power washer and clean those surfaces yourself there is some crucial information to consider first. A professional knows which surfaces to pressure wash, and which surfaces to soft wash. Pressure washers tend to blast debris and growth away with between 1400 and 4000 PSI (pounds per square inch). Too much pressure can leave marks on your homes siding or even knock it loose. A professional doesn't power wash your siding. Instead, a professional will soft wash your siding with a low PSI of around 60 and treats the siding to kill organic growth.
When it comes to choosing who to trust your property to do your research in advance. There is a big difference between a professional exterior cleaning company and a guy with a truck and a power washer. To help you spot the pros from the nos here are a couple of questions to ask when calling around for quotes:
What PSI are you using?
Do you carry insurance?
Do you provide an itemized estimate?
Do you guarantee your work? (Will you come back and correct any mistakes if one is made?)
Do they claim to be licensed? (Virginia doesn't require licensing for pressure washing contractors)
Don't be afraid to quiz a service provider about different surfaces and methods. A good service provider should not only be able to answer your questions but should be proud to explain their methods and procedures.
That brings us to what is probably the biggest concern for most sellers, money. How much will a professional cost? How much money should I put into selling my home? Is it worth it? If you are selling your home without putting any time or money into its appearance, you risk not getting enough interested buyers due to a lack of visual appeal. When someone is interested in a showing, they may notice lichen growth on the roof or moss encroaching upon the walkway. It may not seem like a big deal, but the outside area is the first part of the home a buyer sees. If they are already spotting little imperfections before even entering the home, they may be more critical of the interior and might look for more imperfections. Remember a buyer is probably weighing concerns of their own and looking for ways to get a better deal on a home. They may see little imperfections as a way to negotiate the price.
However, if you pay for services to improve your home prior to listing it not only will this provide better visuals, but you can also include these improvements in your listing and in the asking price. Home listed with recent upgrades, maintenance, and general improvements will sell for more. If you hire a professional to clean and treat the exterior of your home for between $500 and $1000 (depending on what types of surfaces you have and how many services you're including) you're able to list your home for a few thousand more than originally estimated, you have gained a significant profit. The perceived increase in home value is well worth it.