Make Your House Stand Out From The Rest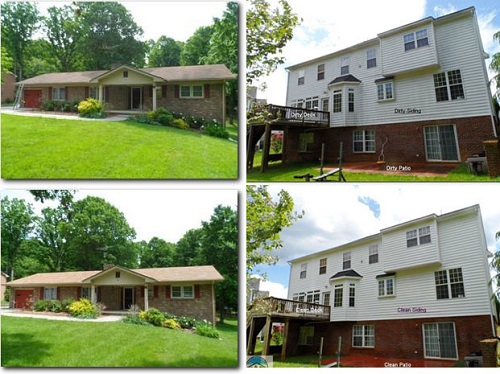 The housing market is beginning to bounce back. Many homeowners selling their homes are trying to find ways to make their home stand out from the rest. Some have the interior and exterior painted while some work on the landscaping. For less than most painting projects, we can clean the roof, siding, decks, sidewalks and much more.
A filthy, algae-covered roof may be keeping your buyers away!
A Clean Home Sells Faster
When a buyer drives up to your home, you want it to look its best. With so many homes on the market, you want buyers to leave with a good feeling of upkeep. Cleaning the roof and other exterior areas of your home can help do just that. Sellers can't afford to be careless with the look of the home's exterior. That bad "first impression" the buyer has often trumps any upgrades or features that are inside the house. "Dirty" roofs that are stained with algae, spotted with lichen and moss detract from a positive home inspection. Buyers could in turn, offer much less than the asking price to compensate for necessary maintenance. A dirty roof could be a deal breaker! The answer is have your roof cleaned well before it goes on the market. Save yourself time and risk by hiring us to do the work for you. We utilize a low pressure method with the only chemicals recommended by shingle manufacturers. Blue Ridge Exterior Cleaning will never use more than 65 psi to clean your roof. The money you spend on your roof cleaning will easily be "paid back" with a better selling price, giving you extra money and a faster sale.